Ball-Gown Sweetheart Chapel Train Satin Wedding Dress With Lace Beading
#11511
Product Reviews
Write a review
little.angelfire
2020-01-19 04:29:10
It's fits very well and arrived so much sooner than I was expecting! It's a beautiful gown, and the price fit my budget so well!

The only reason I didn't give it all 5 stars is because in the picture on the model the bodice looks like it goes down further. The dresses I tried on in stores looked best when they went down to my lower hips and I was a little disappointed that it goes just passed my waist. But otherwise I'm happy with my purchase and that I found a dress so quickly!

philippeangel
2020-01-13 09:42:58
ma robe me vas a merveille super qualite et tres jolie
Mateja Kališnik
2018-05-03 02:43:57
I'm so verry happy with the dress! It's exactly the same as in picture! :)

Delivery was in the time wrtiten on the side, not a day late. :)

melli-mandana89
2018-04-06 16:03:52
Thanks. The dress was ready on time and was the nicest thing I could find. Above all, it fits perfectly and it was adapted to my figure very well. I had difficulties finding a perfect dress before and here I found it. It's just amazing. Thank you
poker_face1405
2017-08-18 01:41:33
I recieved my dress a few weeks ago and its absolutely beautiful! I got mine custom made which cost a small amount more but was deffintely worth it! Postage was super quick also. Can not fault JJ's house at all, deffinately recommend them.
Dress arrived very quickly and is stunning! Needs no alterations and fits like a glove. I was so worried about ordering a cheap dress online but this dress is exactly like the photos and does not look or feel like cheap quality! Very happy and will recommend JJ's House willingly

jane.vse3
2016-12-05 08:38:22
I am not sure what to say other than 'IT WAS JUST PERFECT!!!'
I went through a couple of websites as well as designs before I could zero in on this dress...nd I am glad i did!!
Special mention and thanks to all the staff who were really attentive and made sure they replied to all of my 10000 queries promptly, keeping in mind the time zone considerations.
I must also say that they were very helpful regarding the measurements...as I have no clue when it comes to sewing or tailoring! My mum nd sis helped me...we made sure the measurements were snug...u don't actually need it to be looser especially if the back is a lace tie up
I ordered my dress on the 12th of May, the dress was shipped by the 24th nd I received it on the 28th. Voilaaa :D :D :D
The dress was heavenly....the design and work was exactly as seen in the picture
I attached sleeves for the dress locally as they do not do that on JJS
Also, the length had to be increased by an inch or so as i had not finalized my shoes when i had submitted the measurements, which I increased on my own using lace trim bought from a local store.
I didn't use a petticoat as I didn't feel the need for one, enough layers were sewed in to help hold the dress up

Many many thanks and much love jjshouse for helping me realize my wedding dress dreams.
Had i the opportunity i would have uploaded more than 2 images.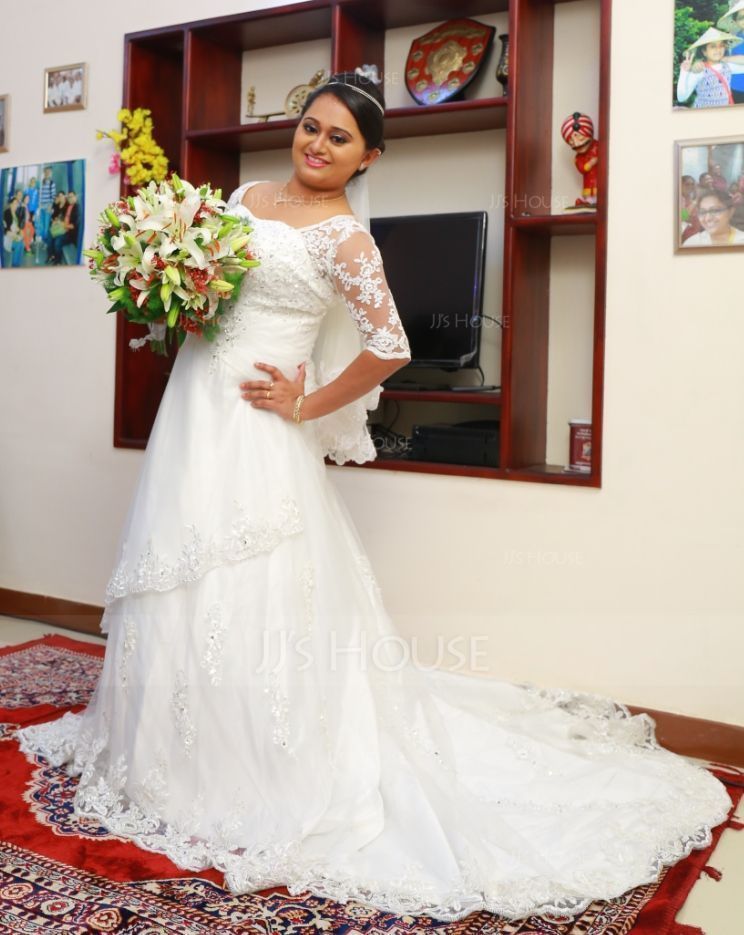 rachidabehlouli
2015-11-18 13:21:19
Merrrrrrcccccccciiiiiiii beaucoup elle magnifique une vrais robe de princesse
My wedding: 8/8-15

denilcedpnice
2014-10-13 18:28:34
oi estou mandando a foto do meu casamento do vestido que comprei de voces adorei ficou lindo o veu tambem é de voces muito obrigada abraços